Tea & Treachery: A new Series
Posted on June 27th, 2020 by admin
The first in the Tea by the Sea series. Tea and Treachery will be available July 28 from Kensington Books. Now available for preorder.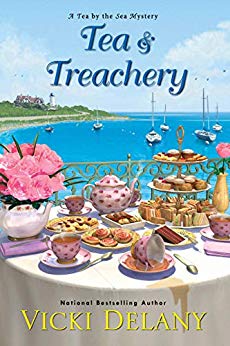 "[A] well-crafted series launch from Delany…Fans of culinary cozies will be sure to come back for more." Publishers Weekly
Details about tea, baking, and running a tea shop and bed-and-breakfast are woven throughout a satisfying cozy with a beautifully described setting and a cast of charming, small-town characters. Share this new series with fans of Laura Childs' Tea Shop mysteries." Booklist
n this charming new cozy mystery series from nationally bestselling author, Vicki Delany, a New York City expat-turned-Cape Cod tea shop owner must solve the murder of a local real estate developer to help her feisty grandmother out of a jam . . .
 
As the proud proprietor and head pastry chef of Tea by the Sea, a traditional English tearoom on the picturesque bluffs of Cape Cod, Roberts has her hands full, often literally. But nothing keeps her busier than steering her sassy grandmother, Rose, away from trouble. Rose operates the grand old Victorian B & B adjacent to Lily's tea shop . . . for now. An aggressive real estate developer, Jack Ford, is pushing hard to rezone nearby land, with an eye toward building a sprawling golf resort, which would drive Rose and Lily out of business.
 
Tempers are already steaming, but things really get sticky when Ford is found dead at the foot of Rose's property and the police think she had something to do with his dramatic demise. Lily can't let her grandmother get burned by a false murder charge. So she starts her own investigation and discovers Ford's been brewing bad blood all over town, from his jilted lover to his trophy wife to his shady business partners. Now, it's down to Lily to stir up some clues, sift through the suspects, and uncover the real killer before Rose is left holding the tea bag.