The Game is a Footnote
Posted on January 16th, 2023 by admin
Now available. The eighth Sherlock Holmes Bookshop Novel.
"Tricky, tricky. Vicki Delany's latest Sherlock Holmes Bookshop Mystery takes an unexpected turn two thirds of the way through the book with the arrival of Gemma Doyle's sister, Pippa. The Game is A Footnote went from a small local mystery of a haunted house and murder to an international story with Pippa's arrival. Well done!" Lesa Holstine at Lesa's Book Critiques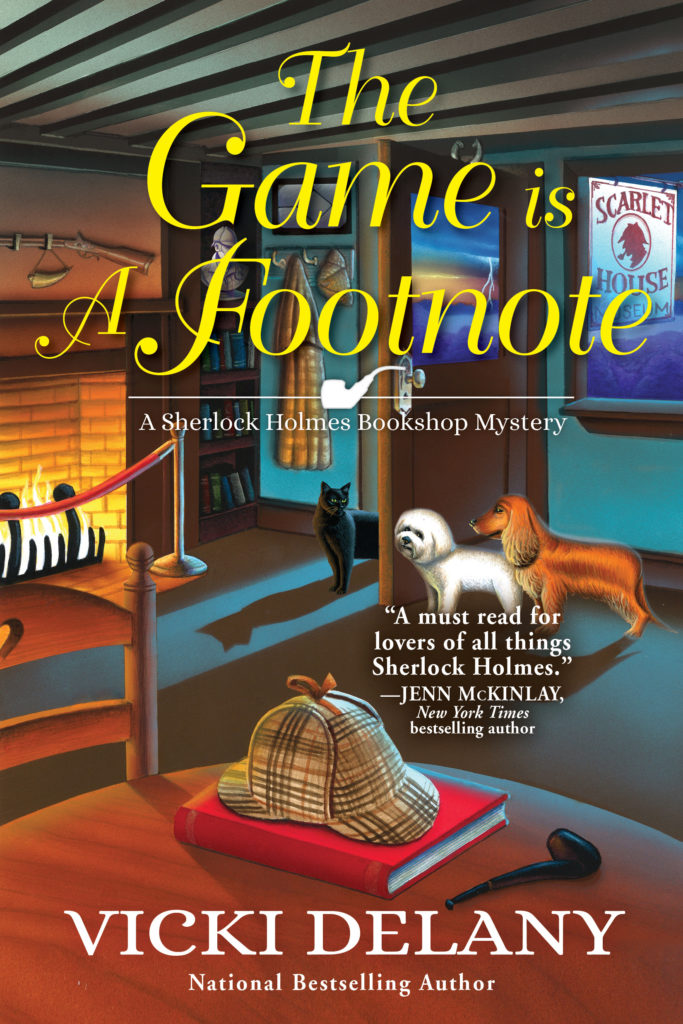 Sherlock Holmes' methods work once more in a charming combination of history and mystery."
—Kirkus Reviews

"[An] entertaining Sherlock Holmes pastiche . . . Will appeal to fans of quirky characters and bookstore settings."
—Library Journal

"Plot twists, Sherlock Holmes lore, historical facts woven through the story, engaging characters, and the details of running a small business in a coastal town enhance this satisfying cozy."
—Booklist
Gemma Doyle and Jayne Wilson are back on the case when a body is discovered in a haunted museum in bestselling author Vicki Delany's eighth Sherlock Holmes Bookshop mystery.

Scarlet House, now a historical re-enactment museum, is the oldest building in West London, Massachusetts. When things start moving around on their own, board members suggest that Gemma Doyle, owner of the Sherlock Holmes Bookshop and Emporium, might be able to get to the bottom of it.  Gemma doesn't believe in ghosts, but she agrees to 'eliminate the impossible'. But when Gemma and Jayne stumble across a dead body on the property, they're forced to consider an all too physical threat.  
 
Gemma and Jayne suspect foul play as they start to uncover more secrets about the museum. With the museum being a revolving door for potential killers, they have plenty of options for who might be the actual culprit.
 
Despite Gemma's determination not to get further involved, it would appear that once again, and much to the displeasure of Detective Ryan Ashburton, the game is afoot.
 
Will Gemma and Jayne be able to solve the mystery behind the haunted museum, or will they be the next to haunt it?