The Cat of the Baskervilles
Posted on January 12th, 2018 by admin
The Cat of the Baskervilles, the third Sherlock Holmes Bookshop mystery.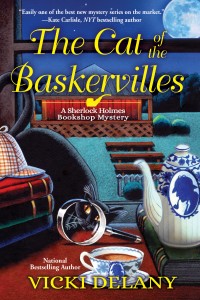 When Jayne Wilson's mother is accused of murder, Jayne and Gemma have to eliminate the impossible to reveal the true killer.
Legendary stage and movie star Sir Nigel Bellingham arrives on Cape Cod to star in a stage production of The Hound of the Baskervilles put on by the West London Theater Festival. When Sir Nigel, some of the cast, and the director visit the Sherlock Holmes Bookshop at 222 Baker Street, Gemma Doyle realizes that Sir Nigel is not at all suited to the role. He is long past his prime and an old drunk to boot. The cast, in particular the much younger actor who previously had the role, are not happy, but the show must go on.
Before the play opens, Leslie Wilson, mother of Gemma's best friend Jayne, arranges a fundraising afternoon tea to be catered by Mrs. Hudson's Tea Room. The tea is a huge success, but when it's time to leave, Sir Nigel has gone missing—only to be found at the bottom of the rocky cliff, dead. Along with the dead body, Gemma finds evidence incriminating Leslie Wilson. When the police, in the presence of handsome detective Ryan Ashburton and suspicious detective Louise Estrada, focus their attention on Leslie despite the numerous other suspects, the game is once again afoot and it's again up to the highly perceptive Gemma and the ever-confused but loyal Jayne to clear Jayne's mother's name.
Available from all your favourite booksellers.
What they're saying about the earlier Sherlock Holmes Bookshop mysteries:
Praise for Body on Baker Street 
"Cozy fans fond of Conan Doyle are most likely to enjoy Delany's second whodunit."
—Publishers Weekly
"Delightful…sure to please fans of Holmes pastiches and bookstore mysteries."
—Library Journal
"A twisty plot and an engaging main character. This series will appeal both to cozy readers and to Holmesians."
—Booklist
"A light-hearted and delightful romp… A perfect novel to read to while away a rainy afternoon with a cup of tea or to keep you company on vacation."
—Seattle Book Review, five-star review
"Cozy mystery fans will love this one!"
—Suspense Magazine