Hark the Herald Angels Slay
Posted on October 20th, 2017 by admin
The third Year Round Christmas mystery, HARK THE HERALD ANGELS SLAY, is now available
Santa's summer vacation plans turn deadly in this festive mystery from the author of Rest Ye Murdered Gentlemen and We Wish You a Murderous Christmas.
The town of Rudolph, New York, has the Christmas spirit all year long—but when homicide heats up a summer holiday, it's up to shop owner Merry Wilkinson to wrap up the case.
In Rudolph, Christmas in July heralds Santa's arrival by boat to begin his summer vacation at the lake, and Merry Wilkinson, owner of Mrs. Claus's Treasures, is looking forward to a busy weekend. But she's caught off guard when her ex-fiancé, Max Folger, unexpectedly arrives with a team from a lifestyle magazine wanting to do a feature on the July festivities.
It's clear that Max's visit has less to do with business and more to do with winning back Merry's heart. Merry has too much on her plate to deal with an old flame, but when Max is found strangled to death in Mrs. Claus's Treasures, she must find out who wanted him dead—and stop a killer from ruining the summer holiday cheer.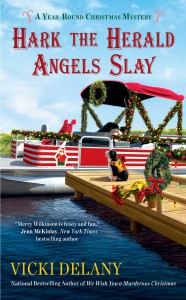 Order from your favourite independent bookstore or by following these links: