Elementary, She Read
Posted on January 8th, 2017 by admin
The first in the new Sherlock Holmes Bookshop series.
Elementary, She Read is published by Crooked Lane Books.It's now available in ebook and hardcover formats. Paperback coming in August.
The discovery of a rare and valuable magazine in the Sherlock Holmes Bookshop and Emporium takes the highly perceptive Gemma Doyle and her ever-confused friend Jayne Wilson deep into the world of Sherlockania.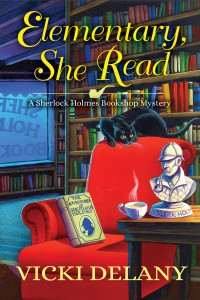 Transplanted Englishwoman Gemma Doyle owns the Sherlock Holmes Bookshop and Emporium in the quaint town of West London on Cape Cod, specializing in the Holmes canon and pastiche, and the adjoining Mrs. Hudson's Tea Room. When Gemma finds a rare and potentially valuable magazine containing the first Sherlock Homes story hidden in the bookshop, she and her friend Jayne Wilson set off to find the owner. What they find is a dead woman and Gemma's house ransacked.
The highly perceptive Gemma is the police's first suspect, so she puts her consummate powers of deduction to work to clear her name, investigating a handsome rare books expert, the dead woman's suspiciously unmoved son, and a whole family of greedy characters desperate to cash in on their inheritance. But when Gemma and Jayne accidentally place themselves at a second murder scene, it's a race to uncover the truth before the detectives lock them up for good.
Fans of Sherlock Holmes will delight in the sleuthing duo of Gemma and Jayne in Elementary, She Read
What do cozy authors have to say about Elementary She Read?
Vicki Delany is one of my favorite mystery authors and with ELEMETARY, SHE READ, she has outdone herself. This first book in her intriguing new series features Gemma Doyle, a wonderfully appealing protagonist who runs the Sherlock Holmes Bookshop and Emporium, where delightfully quirky characters and fascinating old books flourish. I loved everything about this story! The Cape Cod setting was enchanting and the intricate mystery kept me turning pages late into the night. Easily one of the best new mystery series on the market.
— Kate Carlisle, New York Times bestselling author of the Bibliophile mysteries and the Fixer-Upper Mysteries
"Vicki Delany's Elementary, She Read is an absolute delight. A perplexing mystery with a refreshingly intelligent and witty amateur sleuth, I enjoyed every well-crafted word of this Sherlock Holmes infused tale. A must read for lovers of all things Sherlock Holmes."
–Jenn McKinlay, NYT and USA Today bestselling author of Better Late Than Never
"Elementary, She Read is a delight, fast, fun, and full of Sherlockian lore. Cheers for a charming, intelligent heroine as observant as The Great Detective himself."
– Carolyn Hart, New York Times bestselling author of Walking on My Grave
"Thoroughly delightful. I defy anyone to read this book and not fall in love with the uber-observant Gemma Doyle. She may or may not be related to Sherlock Holmes' creator, but she's certainly kin to his most famous detective. The best new cozy series of the year."
– Laura DiSilverio, bestselling author of the Readaholics Book Club Mysteries and the award-winning The Reckoning Stones
Read the first chapter of Elementary, She Read here!