Back to Trafalgar
Posted on March 31st, 2016 by admin
After a two year break, Constable Molly Smith, Sergeant John Winters and the rest of the residents of Trafalgar, B.C. are back. Unreasonable Doubt is the eighth book in the popular series.
Twenty-five years ago, Walter Desmond was sentenced to life in prison for the brutal murder of young Sophia D'Angelo in Trafalgar, British Columbia. For twenty- five years, Walt steadfastly maintained his innocence.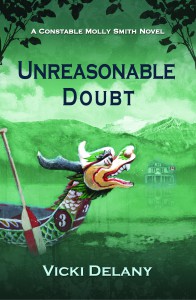 Now he's out of prison, exonerated by new evidence that shows corruption at worst or sheer incompetence at best, on the part of the Trafalgar City Police.  And he's back in Trafalgar.
Tensions are running high in the small mountain town.  Tension between those who believe an innocent man was convicted and those who maintain the police got the right man. Surrounded by supporters, Sophia's bitter family is determined to see Walter back in prison. Or dead.  But it's mid-summer in Trafalgar and women's dragon boat teams are in town. At the B&B Walt Desmond meets lonely widow Carolanne Fraser, and Walt decides he might have reason to stay.
The police are instructed to do nothing to interfere with Desmond, but when Constable Molly Smith comes across two of her colleagues ordering the man out of town "or else" she's forced to decide where her loyalties lie.
Meanwhile, a file that closed twenty-five years ago is on Sergeant John Winters' desk.  The records are dust-covered and moldy, the investigating detective long dead, the arresting officer retired and not talking, but Smith and Winters dig into the case.
Because, if Walt Desmond didn't kill Sophia Angelo, someone else did.
"…a real page-turner, ratcheting up the tension as each secret from the past is painfully revealed." Kirkus Reviews
"The case is compelling, the writing strong and the characters interesting and believable. It's an ugly crime in a beautiful location." San Jose Mercury News
 "…an unsavory view of old-boy small-town cop cliques, reminding us that some people don't get what they deserve."  Publishers Weekly
Unreasonable Doubt is now available for pre-order at your favourite independent bookstore or online sources, in paper and ebook formats.