Under Cold Stone
Posted on March 26th, 2014 by admin
Under Cold Stone, is the seventh book in the Constable Molly Smith series from Poisoned Pen Press.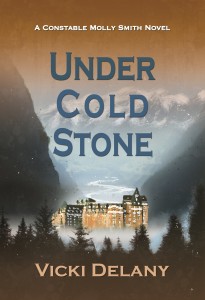 A couple's weekend getaway to the Rocky Mountains. A Scottish-inspired castle of carved stone, imposing turrets, liveried bellhops, and panoramic views. Perched on the verge of one of the world's greatest wildernesses.
They're an unlikely couple: Lucky Smith, passionate environmentalist, old-time hippy; Paul Keller Chief Constable of Trafalgar, British Columbia. This vacation is a chance to explore their fledging late-in-life relationship, to indulge themselves at the famous Banff Springs Hotel.
Trouble interferes when Lucky, strong-willed and sometimes too stubborn for her own good, stands up to two bullies in the local coffee shop. To his horror Paul recognizes one of the young men as his estranged son, Matt.
In the early hours of the following morning, a frantic Matt calls his father for help.  Lucky and Paul arrive to find a body on the apartment floor, but Matt has gone.
Matt Keller is an experienced wilderness adventurer. All signs indicate that he's escaped into the backcountry.  To RCMP Sergeant Eddie Blechta, running is all the proof of guilt he needs.  Paul Keller  can do nothing but watch the investigation from a distance, terrified that Blechta is right.
Lucky's daughter, Constable Molly Smith of the Trafalgar City Police, abandons her chaotic Thanksgiving kitchen to offer her mom support. She has no intention of meddling in the police investigation, but when Matt's sad, shy girlfriend, Tracey, asks for her help, Molly Smith finds herself not only interfering but putting herself on the wrong side of Edward Blechta.
And Molly Smith is as good in the wilderness as Matt Keller.
You can find UNDER COLD STONE at your favourite independent bookstore, or at Amazon.com, Amazon.ca, B&N.com or Chapters.ca.