Juba Good
Posted on February 19th, 2014 by admin
Coming in April!
Juba Good, a Rapid Reads Book from Orca Book Publishers.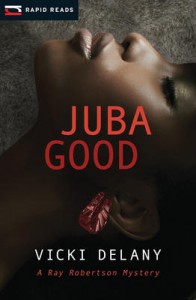 Juba, South Sudan.
RCMP Sergeant Ray Robertson has spent eleven and a half months serving with the United Nations in the world's newest country. He's tired of the chaotic traffic and jostling crowds that fill the narrow streets. Tired of the choking red dust that blows into the capital from the desert. He can't wait to get back to his wife and kids—and back to policing a world he understands.
But when a young woman—the fourth in three weeks—is found dead at the side of a dusty road with a thin white ribbon wrapped tightly around her neck, Robertson fears that a serial killer is on the loose. In a country plagued by years of extreme poverty, civil war and the struggle to establish a functioning government, the policeman realizes that it's up to him and his Dinka partner, John Deng, to find the killer before he can strike again.
Juba Good is available for pre-order from your favourite independent bookstore, plus sites such as Amazon.com, Amazon.ca, Chapters.ca and Barnes and Noble. Note that only paper copies are offered for preorder. The e-book will be available on release date.