Now Available: A Cold White Sun
Posted on June 23rd, 2013 by admin
After a break of two years, Constable Molly Smith, Sergeant John Winters and their co-workers, friends, and families are back in the sixth book in the series, A COLD WHITE SUN.
"The only remaining mystery at the end is why Vicki Delany isn't yet as famous a crime writer, both nationally and internationally, as such fellow Canadians as Louise Penny or Linwood Barclay. Maybe this is the novel to fix that — and send readers in search of her backlist, as well." London Free Press on A COLD WHITE SUN
"6th in her critically acclaimed Constable Molly Smith series, A COLD WHITE SUN places Vicki Delany's marvelous storytelling on full display.  Delany's formidable Canadian sleuth, Molly Smith, pits her skills against an ice-cold killer, just as her personal life heats up.  I love this series!"
Julia Spencer-Fleming, New York Times bestselling author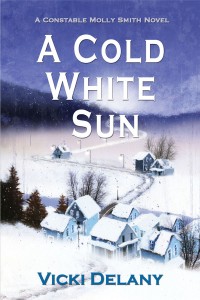 "…the author's quietly competent sketch of police work in a small town will keep readers turning the pages." Publishers Weekly
"Delany breaks the reader's heart with details: the harmless fantasies that can now never be acted upon, the blue flannel pyjamas of a little girl who just lost her mother… The combination of cosy and savage was surprising, but effective. I wanted to know whodunit and why!" Staff Pick, Sleuth of Baker Street, Toronto
Cathy Lindsay: high school English teacher, married mother of two. Shot by a sniper while walking her dog in the snowy woods.  Sergeant John Winters and Constable Molly Smith have no clues, no suspects, no motive.  Is it possible this was a case of mistaken identity?  And if so, who in the small, close-knit community might be next?
Meanwhile, on the double black diamond runs of the Blue Sky resort, Molly Smith meets a handsome, charming man, as good as skier as she is, and she realizes it's time to make some serious decisions about the direction of her  life – both personal and professional.
Now available at your favourite bookstore. Also Amazon.com, Amazon.ca, Chapters, B&N.   Hardcover, Trade Paperback, Large Print, Audio, and all e-formats
Read chapter-1