An Arthur Ellis Award Nomination!
Posted on April 24th, 2013 by admin
My Rapid Reads novel, A WINTER KILL, has been shortlisted for an Arthur Ellis Award for best novella.  How exciting.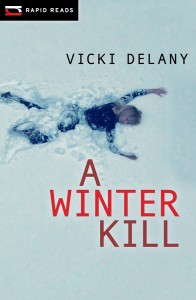 The competition is fierce, the shortlisted books are:
Lou Allin, Contingency Plan, Orca Rapid Reads
Vicki Delany, A Winter Kill, Orca Rapid Reads
Barbara Fradkin, Evil behind that Door, Orca Rapid Reads
Christopher G. Moore, "Reunion", Phnom Penh Noir, Heaven Lake Press
Click here to learn more about A WINTER KILL.