It's a Crime Not to Read Delany – London Free Press
Posted on September 2nd, 2010 by admin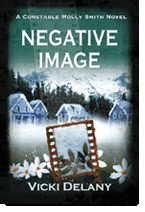 "Winning" says Publishers Weekly
"…combines the crisp plotting of the best small-town police procedurals with trenchant commentary on such universal problems as love and trust." Kirkus Reviews
"Delany … deftly sprinkles clues–and red herrings–without ever slighting her engaging characters." Publishers Weekly
 Now available at Amazon.com, Amazon.ca, Chapters.ca , Barnes and Noble, and your favourite independent bookseller. Have an e-reader? Buy Negative Image for Kindle.
What would you do if you believe the person you trust most in the world has betrayed you? What would you do if you discover that the person you trust most in the world believes you capable of betrayal? 
As the mountain town of Trafalgar, British Columbia shakes off a long hard winter, famous photographer Rudolph Steiner arrives to do a feature on mountain tourism. Steiner is accompanied by his assistant and sexy young wife, but he has another reason for the visit: to re-connect with the woman who left him twenty-five years ago to marry another man. Twenty-five years ago she was young, beautiful, naïve, an internationally known supermodel. Today Eliza Winters is no longer young, and definitely not naïve, but still beautiful and married to Trafalgar City Police Sergeant John Winters.
When Steiner is found dead in his luxury hotel room, shot once in the back of the head, suspicion falls upon Eliza. John Winters is forced into the most difficult decision of his life: loyalty to his job or to his wife. As the RCMP dig into the secrets of both Steiner and Eliza, John Winters slowly comes to realize that he doesn't know the woman to whom he has been married for twenty-five years as well as he thought he did.
Unable to help the Sergeant, Constable Molly Smith has her own troubles: a series of B&Es has the peaceful town in an uproar, her overprotective Mountie boyfriend is fighting with her colleagues, and a vengeful stalker is watching her every move. When tragedy strikes at the heart of her own family, Molly can't even turn to her mother, Lucky, for help.  
In Negative Image Vicki Delany deftly blends a taut murder mystery and nail-biting suspense with an exploration of the very meaning of family and the forces that bind, or separate, them.
Read the first chapter:  click here
Read the second chapter: click here