Posted on August 28th, 2016 by admin
On November 1st, pay a visit to Rudolph, new York, America's Christmas Town!
A grinch is spoiling the holiday cheer and causing fear in the latest from the author of Rest Ye Murdered Gentlemen…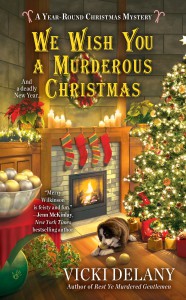 It's Christmastime three hundred sixty-five days a year in Rudolph, New York, and as Christmas Day approaches, shop owner Merry Wilkinson is enjoying a rare evening off at the Yuletide Inn when she runs into owners Grace and Jack Olsen. With Jack's health failing, Merry is relieved to hear that his son Gord will be taking over the day-to-day running of the Inn.
But then Gord reveals that his new plans have no room for Christmas at the Inn, and Merry and the other shopkeepers start to fret about the effect a bland franchise hotel could have on their livelihoods.
When Gord is found stabbed to death, there's an entire town of potential suspects—and it's up to Merry to find whoever brought homicide home for the holidays…
Pre-order We Wish You A Murderous Christmas, the second in the Year Round Christmas mystery series, in ebook and mass market paperback editions from all your favourite sources.
The first book in the series, Rest Ye Murdered Gentlemen is now available.