Posted on September 17th, 2023 by admin
After a three year break, Merry and the gang are back, celebrating Christmas and solving mysteries all year long. Coming from Crooked Lane Books on September 19.
"Cozy queen Vicki Delany decks the halls with a witty and irresistible holiday mystery that offers amusing amateur theatrical antics and more twists than a candy cane. A hot cocoa toast to the return of the Year-Round Christmas Mystery series!"
—Ellen Byron, USA Today bestselling author of the Cajun Country Mysteries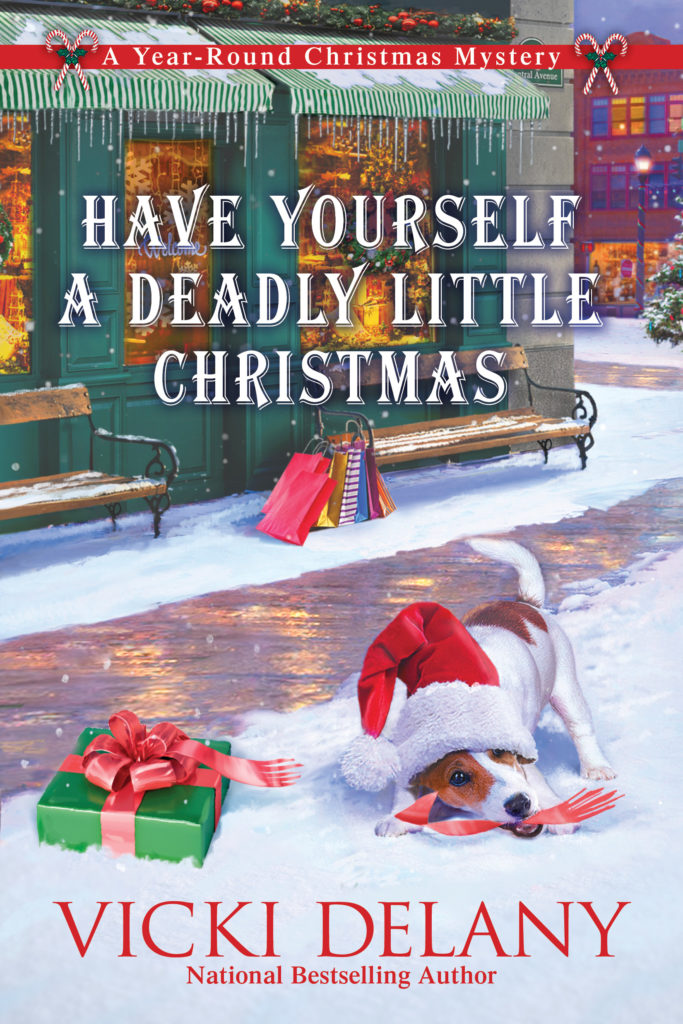 "Have Yourself a Deadly Little Christmas, the latest in Vicki Delany's Year-Round Christmas series, is sure to bring good cheer to even the Scroogiest of readers. You'll be humming holiday tunes and watching for the ghosts of Christmases past and future as you turn the pages, reaching for hot chocolate or a gingerbread cookie no matter what the weather, as Merry and her friends save the holiday."
—Leslie Budewitz, three-time Agatha Award-winning author of the Spice Shop Mysteries

"Vicki Delany's bulging Christmas stocking of a mystery is bursting with small-town charm, a cast of quirky characters, a heroic dog and a surprise treat of an ending tucked in the toe!"
—Leslie Meier, author of the Lucy Stone Mystery Series
It's the beginning of December in Rudolph, New York, America's Christmas Town, and business is brisk at Mrs. Claus's Treasures, a gift and décor shop owned by Merry Wilkinson. The local amateur dramatic society is intensely preparing a special musical production of A Christmas Carol. But it's not a happy set, as rivalries between cast and crew threaten the production.

Tensions come to a head when a member of the group is found dead shortly after a shopping excursion to Mrs. Claus's Treasures. Was someone looking to cut out the competition? Everyone in the cast and crew is a potential suspect, including Aline, Merry's mother, and Merry's shop assistant Jackie O'Reilly, who was desperate for a starring role.

It could be curtains for Christmas—and for Merry—unless the killer can be ferreted out of the wings.