Stand-Alones

- Poisoned Pen Press – March 2005
After thirty years of attempting to escape her past Rebecca McKenzie comes back to the little town in Northern Ontario where she was raised, to attend her mother's funeral. But the past will not be forgotten.
---

- Poisoned Pen Press – June 2006
September 1939. A beautiful Irish maid realizes that her scheming has led to a fatal mistake. A strong-willed nursing sister prepares to head for Europe, and war.
September 2006. A biographer arrives at a grand, historic cottage on Muskoka's Millionaires' Row to assist the matriarch of the wealthy Madison family with the writing of her memoirs.
---
A Winter Kill
A Rapid Reads book from Orca Press April 2012
---
More Than Sorrow
Poisoned Pen Press, September 2012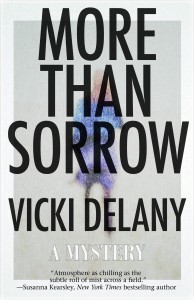 A Loyalist refugee, a disfigured Afghan woman. They lived two hundred years apart, but they have one thing in common: Hannah Manning, once an internationally-renowned journalist and war correspondent, victim of an IED explosion.   In this modern Gothic novel of heart-wrenching suspense, past and present merge into a terrifying threat to the only thing Hannah still holds dear – her ten-year-old niece, Lily.

Whiteout
- Whiteout, January 2001
A novel of suspense, with a dash of murder and a pinch of a ghost story, and one very modern woman, just trying to find her way through life.
More on Whiteout
Eppie Award Winner – 2001