Smith & Winters Series
Under Cold Stone: Constable Molly Smith # 7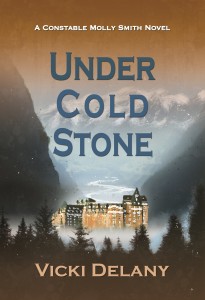 A weekend getaway to the Rocky Mountains. A Scottish-inspired castle of carved stone, imposing turrets, liveried bellhops, and panoramic views. Perched on the verge of one of the world's greatest wildernesses.
They're an unlikely couple: Lucky Smith, passionate environmentalist, old-time hippy; Paul Keller Chief Constable of Trafalgar, British Columbia. This vacation is a chance to explore their fledging late-in-life relationship, to indulge themselves at the famous Banff Springs Hotel.
Trouble interferes when Lucky, strong-willed and sometimes too stubborn for her own good, stands up to two bullies in the local coffee shop. To his horror Paul recognizes one of the young men as his estranged son, Matt.
In the early hours of the following morning, a frantic Matt calls his father for help.  Lucky and Paul arrive to find a body on the apartment floor, but Matt has gone.
Matt Keller is an experienced wilderness adventurer. All signs indicate that he's escaped into the backcountry. To RCMP Sergeant Eddie Blechta, running is all the proof of guilt he needs.
Paul Keller  can do nothing but watch the investigation from a distance, terrified that Blechta is right.
Lucky's daughter, Constable Molly Smith of the Trafalgar City Police, abandons her chaotic Thanksgiving kitchen to offer her mom support. She has no intention of meddling in the police investigation, but when Matt's sad, shy girlfriend, Tracey, asks for her help, Molly Smith finds herself not only interfering but putting herself on the wrong side of Edward Blechta.
And Molly Smith is as good in the wilderness as Matt Keller.
A Cold White Sun: Constable Molly Smith #6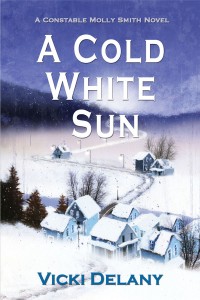 It's the end of March and Trafalgar, British Columbia is preparing for the last influx of skiers for the season.  Schools are closed for a week:  teachers, parents, and students are preparing to relax at home or head off on vacation.
But for Cathy Lindsay, the week of relaxation doesn't work out as planned when she's gunned down by a sniper on the hiking trail high above town, her small dog the only witness.
Cathy Lindsay: middle-age, middle-class, small town resident, high school English teacher, married mother of two. An unlikely candidate for a murderous ambush.  As Sergeant John Winters begins his investigation he finds himself frustrated at every turn.  Why would anyone want to kill Cathy? She was a respected teacher, in an apparently solid marriage to an Internet developer, living a quiet life.  Winters, with the help of young Constable Molly Smith, digs deep into the Lindsay marriage and friendships, searching for a motive, but one thought continually niggles at the back of his mind:  Is it possible this was a random killing or a case of mistaken identity?  And if so, who in the small, close-knit community might be next?
Meanwhile, on the double black diamond runs of the Blue Sky resort, Molly Smith meets a handsome, charming man, as good as skier as she is, and she realizes it's time to make some serious decisions about the direction of her  life – both personal and professional
Among the Departed. Constable Molly Smith #5

Fifteen years ago a young girl by the name of Moonlight Smith went to her best friend Nicky Nowak's house for a sleepover. Moonlight joined the family for breakfast the following morning and was then picked up by her mother. Shortly after, Mr. Nowak went for a walk.
He was never seen again.
It is now autumn in the mountain town of Trafalgar, British Columbia. Searching for a lost child in the wilderness a police dog discovers human remains. When Sergeant John Winters reopens the investigation into the disappearance of Brian Nowak he finds a shattered family and townsfolk desperate to keep their secrets.  Among the Departed is much more than a mystery novel: it is also a story of love – new and old, long-concealed, life-affirming and fatal.
Among the Departed hits a new high for author Vicki Delany. [M]ystery fiction that uses the genre as a creative tool for story telling that touches the spirit… Don Graves, Hamilton Spectator
The beautiful setting nicely frames this village police procedural, which boasts well-delineated characters and combines police investigation with the life of cops on the beat. Booklist
Delany (Negative Image, 2010, etc.) invigorates the cozy genre with an unsparing look at love in all its variations, including coming to terms with it the second time around. Kirkus Reviews
---
Negative Image. Constable Molly Smith #4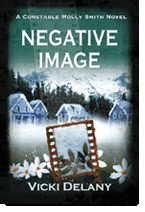 When his wife's former fiance is found dead of a gunshot to the back of the head, Sergeant John Winters is faced with the most difficult decision of his life: loyalty to his wife or to his job.
"Delany adds fine layers of intricacy and depth to the crimes, investigations, pacing and characters of Negative Image, so that by the end, those virtues have put her well within range of the most sterling of smart, talented crime writers." London Free Press

---
Winter of Secrets: Constable Molly Smith #3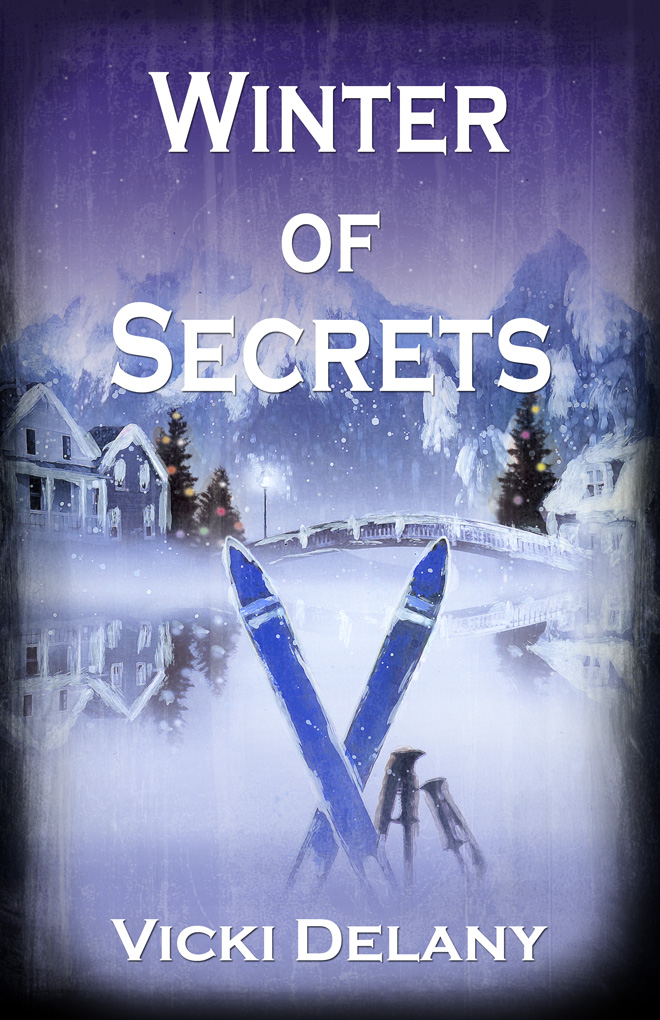 Christmas in Trafalgar, B.C. The skiing vacation of a group of rowdy students takes a tragic turn, and Smith and Winters discover that sometimes an accident isn't as it first appears.
"…a bare-bones style, without literary flash, to achieve artistry as sturdy and restrained as a Shaker chair. Warmth and menace, past and present, are nicely balanced, with a denouement that's equally plausible and startling. This confident performance is sure to win new fans to the series." Publishers Weekly Starred Review
---
Valley of the Lost: Constable Molly Smith #2
Vicki Delany created a beautiful, idyllic, Canadian mountain village within the pages of her 2007 mystery, In The Shadow of the Glacier. And then she threw a dead body into the mix. Now this quiet village is once again in trouble in Valley of the Lost, and-as usual-it is up to Constable Molly Smith and Sergeant John Winters to sort out the crime before the villagers turn on each other.
More on Valley of the Lost
"…builds to a pulse-pounding conclusion." – Publisher's Weekly.
---
In the Shadow of the Glacier: Constable Molly Smith # 1
Trouble is brewing in the small, bucolic mountain town of Trafalgar, British Columbia. An American who came to Trafalgar as a Vietnam War draft dodger has left land and money to the town but there's a catch: the money must be used to build a garden to honor draft dodgers. This bequest has torn the close-knit, peaceful town apart. Then the body of a leading opponent is found in an alley, dead from a single blow to the head.
More on In the Shadow of The Glacier
"Delany writes with a painter's landscape palette and a storyteller's deft hand at spinning a good tale."  – Hamilton (Ontario) Spectator.
---