Gold Fever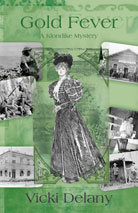 They're back! Fiona and Angus and Constable Sterling and all the dancers, croupiers, gamblers, bartenders, bouncers, madams without hearts of gold, bar hangers-on, cheechakos and sourdoughs, businessmen both respectable and shady, in the muddy streets of Dawson City, Yukon, in 1898.
To read the First Chapter: click here.
To have a look at Rendezvous Crime's preview page: click here.
Order now from Chapters/Indigo, Amazon.com or Amazon.ca
Reviews:
the novel itself is not only suspenseful in a traditional solve-the-murders sort of way, but a smoothly critical look at racism and homophobia that takes those still-current issues and weaves them, not into didacticism or harangue, but in, out of and through a clever plot." Joan Barfoot, London Free Press
Funny, smart and full of snippets of Yukon gold-rush lore, this is a delightful light novel for a warm spring day." Margaret Cannon, Globe and Mail